Cabot's Pueblo is marvel of engineering and design. The home was built beginning in 1941 and was always intended to be a museum in addition to the residence for Cabot and Portia Yerxa. The Hopi-inspired building is hand-made and created from reclaimed and found materials from throughout the Coachella Valley. Cabot used recovered lumber from his original homestead built in 1925 on the other end of Miracle Hill. Additionally, he purchased abandoned cabins and dismantled them to use the materials for the Pueblo, going so far as to straighten out used nails. Much of the Pueblo is made from adobe-style and sun-dried bricks Cabot made himself in the courtyard. Filled with Native American art and artifacts, souvenirs of Cabot's travels around the world, displays on Native American Rights, and Cabot's own works of art, the Pueblo Museum officially opened to the public in 1949. The Pueblo has four stories, is 5,000 square feet and includes 35 rooms, 150 windows, 30 rooflines, and 65 doors.
Joshua Tree National Park
Joshua Tree National Park is a vast protected area in southern California. It's characterized by rugged rock formations and stark desert landscapes. Named for the region's twisted, bristled Joshua trees, the park straddles the cactus-dotted Colorado Desert and the Mojave Desert, which is higher and cooler. Keys View looks out over the Coachella Valley. Hiking trails weave through the boulders of Hidden Valley.
Palm Springs Aerial Tramway
The Palm Springs Aerial Tramway—the world's largest rotating tram car—travels over two-and-one-half miles along the breathtaking cliffs of Chino Canyon, transporting riders to the pristine wilderness of the Mt. San Jacinto State Park. During your approximately ten-minute journey, tram cars rotate slowly, offering picturesque and spectacular vistas of the valley floor below. Once you reach the Mountain Station—elevation 8,516 feet—enjoy two restaurants, observation decks, natural history museum, two documentary theaters, gift shop and over 50 miles of hiking trails.
Living Desert Zoo and Gardens, formerly the Living Desert Museum, is a desert botanical garden and a zoo located in Palm Desert, Riverside County, California, United States. They are in the Sonoran Desert of the Coachella Valley and Santa Rosa Mountains foothills near Palm Springs, California.
The Living Desert Zoo and Gardens has been a member of the Association of Zoos and Aquariums (AZA) since 1983, and is a member of the World Association of Zoos and Aquariums (WAZA). It has participated in species reintroduction programs including the peninsular bighorn sheep to the local mountains and returning Arabian oryx to Oman.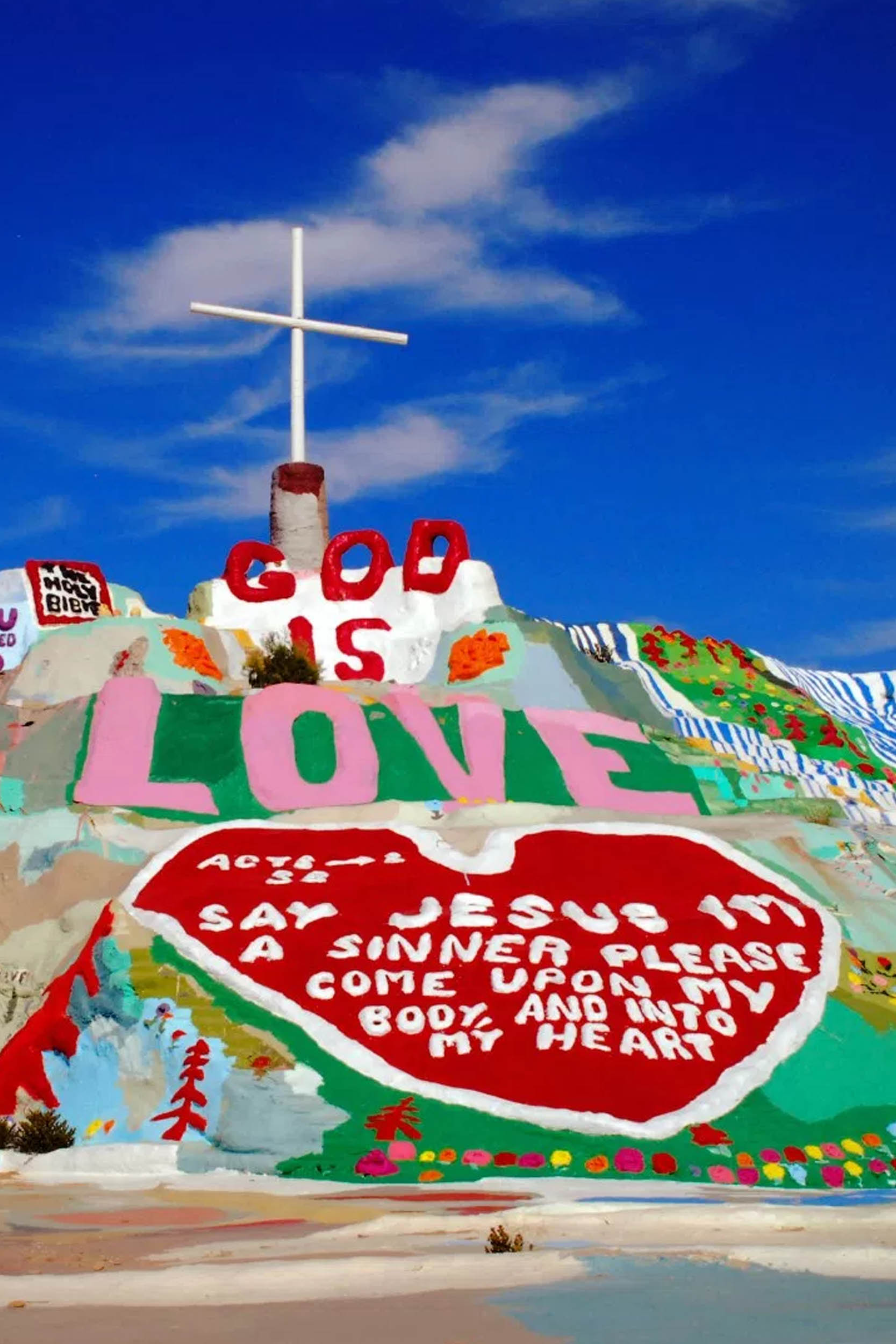 Salvation Mountain is a hillside visionary environment created by local resident Leonard Knight (1931–2014) in the California Desert area of Imperial County, north of Calipatria, northeast of Niland near Slab City, and several miles from the Salton Sea. The artwork is made of adobe, straw, and thousands of gallons of lead-free paint.
International Banana Museum
In this museum you will find every type banana related items you can possibly think of and even some you've likely never thought of.  From salt n pepper shakers to compasses to harmonicas and statues, this museum has lots of artwork and other items making it the largest collection of banana related items in the world.